 Products and services
Carbon and Fuels Ltd offers numerous products and services designed specifically for the consumer. We market our products in Nigeria and within Africa. We offer the following services.
Production and Importation of Lubricants/greases that are usually not blended in Nigeria (Turbine oils, Transformer oils, food grade oils/greases, industrial greases etc). In doing this we inscribe product names and brand the product for our midterm customers while we supply directly to end users in our brand.
Clearing and forwarding of petroleum products.
Consultancy services.
Training
Sales of general petroleum products (PMS, Automotive Gas Oil, base oils) and backup services.
We also have our range of Lubricants amongst which is our Micron HD 40, Which has been specially formulated to optimize consumer cost by extended drain periods while performing under extreme conditions in engines without loosing its properties and functionalities.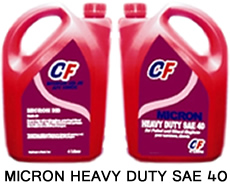 MICRON HEAVY DUTY SAE 40 helps optimize cost and performance of demanding formulations, offering top-quality performance for heavy duty engines.
Other Service includes:
Setting up the whole range of your Lubricants (petrol engine oils, gear oils, diesel engine oils and all industrial lubricants)
Assist to set up and run a profitable Lubricant blending plant
Determine right formulations for your range of Lubricants ensuring competitive costing/profitability.
Assist to ensure you partner with the right supplier/contractor in the Industry based on track records
Assist to open up the market for your products across the nation
Ensure materials for the Lubricants are purchased at optimal/premium prices for you, because of our knowledge of the suppliers and the seasonal trends
Help ensure that your production activities don't encounter materials stock outs